Koala Bear Kare
Horizontal Design


The Koala Kare baby changing station KB200 is made with the exclusive Microban protection and enhanced operator materials that improves sanitation and is embedded in the FDA approved blow molded high-density polyethylene bed surface.
No hinge structure is exposed on interior or exterior surfaces. Equipped with a pneumatic cylinder for controlled opening and closing of bed.
Brocar
Horizontal Design



Brocar by Foundations - Baby Changing Station - Model 100-EHBP is tested to 250 pounds ADA. compliant High density polyethylene inhibits bacterial growth. A protection strap with cam buckle is adjustable with one hand.
Meets ANSI Safe label standards. Tamper Resistant Fasteners included. Easy Mount Backer plate included
Diaper Depot®
Horizontal Design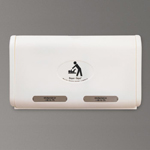 Diaper Depot Horizontal Baby Changing Station by SSC, Inc. (Safe-Strap Co.) 2300 combines innovative design. A large, concave bed (32 1/2" x 18 1/2"), that makes this diaper changing station perfect for any commercial restroom.
When the unit is closed it protrudes only 4 inches in compliance with ADA 4.4.1 Protruding Objects when installed to the manufacturer's specifications.

Gamco
Horizontal Design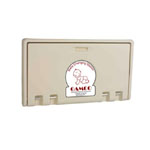 The Gamco Horizontal Wall-Mounted Baby Changing Station BCS-1 is formed from blow-molded, high density polyethylene and features a Microban antimicrobial additive.
The unit showcases 11-gauge steel mounting plates and mounting hardware. The surface are is 442 square inches (2873 sq cm).


Koala Bear Kare
Vertical Design



Koala Baby Changing Station Vertical Design - Model KB101 is made with Microban antimicrobial embedded in FDA approved molded high-density polyethylene. With reinforced full-length steel on steel hinge mechanism, with 11-gauge steel mount plates and mounting hardware included.
Molded in graphics & safety messages in six languages with Braille.


Brocar
Vertical Design



Brocar by Foundations Baby Changing Station Model 100-EVBP is made from easy to clean, high density polyethylene. Each liner dispenser holds approximately 50 of the 036-LCR liners. Includes one hand adjustable Safe belt with cam-buckle, and Convenient bag hooks on both sides.

Easy to read ANSI compliant labels (ANSI Z535.3 and ANSI Z535.4). Compact, slim profile. Only protrudes 4 inches or 102 mm from wall when closed.


Diaper Depot®
Vertical Design


Diaper Depot Vertical Baby Changing Station by SSC, Inc. (Safe-Strap Co.) 3300 features a sleek, vertical design incorporated with a large bed into a compact, space saving commercial bathroom fixture.
This versatile unit is for restrooms where space is of concern because it's only 22" wide. Closed the unit is in compliance with ADA 4.4.1.

Changing Table
Replacement Parts


Extend the life of your baby changing station with replacement parts. Replacement straps, replacement shocks, decals, bathroom labels, end caps and wall plugs are some of the products offered.

Simply look up the baby changing station you currently have and a chart of all replacement parts will be listed for easy choice.

Koala Bear Kare
Oval Shaped

Koala Bear Kare Oval Baby Changing Station KB208 offers a concealed pneumatic cylinder /w hinge structure gives controlled, slow opening and closing bed. Easy to clean high-density polyethylene resists odors and bacterial growth.
ADA compliant when closed and properly mounted.


Bradley
Oval Shaped

Surface Mounted Bradley Baby Changing Station Model BR-9611 is ADA Compliant Plastic Wall Mounted Horizontal Design. This is a molded plastic folding design

Full-length, steel hinge pin. Bed supports a static load of up to 300 lbs. Fabricated of molded, high density polyethylene.

Diaper Depot
Oval Shaped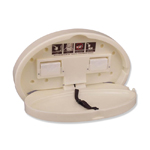 Diaper Depot Oval Baby Changing Station by SSC, Inc. (Safe-Strap Co.) 4300#SSC-43 is manufactured from FDA approved plastics. This is a durable and affordable baby changing station.
MeetsASTMF2285 Consumer Safety Performance for Commercial Diaper Changing Stations